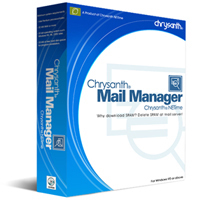 You've tried blocking repeat offenders. You've probably tried message rules to filter out spam mails by the words they use. But spammers use weird characters you can't even find on your keyboard! Maybe you've tried a junk-email-washer - one of those programs that moves suspicious mail into a "junk email folder". Trouble is, you still have to delete those spam mails...
Everyday, when you are about to launch your email client (be it Outlook, Thunderbird or etc), you are well aware of the fact that — piles of unsolicited junk mails are already sitting in your mail server waiting for you to fetch into your local email client. Unfortunately, you still have to launch your email application and bring into your mailbox all junk emails that spammers feel that you may potentially be interested!
Now there's a solution!
With Chrysanth Mail Manager, you'll never have to download any junk mails again!
Here's how you could block junk mails from flooding into your local mailboxes. Just take a look at the following 4 screens:
Chrysanth Mail Manager takes you to your ISP, right inside your email account, and shows you exactly what's waiting. Three powerful tools go to work for you automatically, seeking out junk emails and marking it for deletion — all while it's still on the server. You can see at a glance what you want and what you don't. A few quick clicks, and zap, the bad stuff is gone! Then you can switch to your regular email program, knowing that it will only download what you asked for.
A great TIME-SAVER that you can't afford to miss!
When the junk mails are taken care of, you will instantly see that your investment is easily being paid off everyday with the amount of time that you could save (which is deposited into the Time Bank by Chrysanth Mail Manager

), just like when you were used to storing your pocket money into your little Piggy Bank.
Only in this case, the difference being that you are actually earning yourself additional time without having to deal with the junk emails. Just let Chrysanth Mail Manager stop all the junk emails for you!
Intuitive, highly customizable, Chrysanth Mail Manager is as easy to use as it is powerful. Within 5 minutes of installing it you'll be up and running.
Try Mail Manager FREE — no risk, no obligation, no questions asked!
For a limited time, we're offering you a FREE, fully functioning 30-day trial of this leading email management software. We're confident that once you experience it, you'll never want to let it go. The good news: after your trial, just € 19.95 gets you the full commercial version — with a 30-day, no-questions-asked, full-money-back guarantee.
Reserve your free trial and start saving your precious time today.